Best House of Facials in West Palm Beach Gardens Florida Fl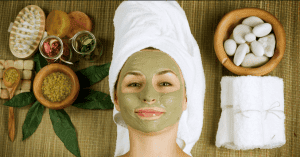 We are proud to be your "House of Facials". Unlike any other experience you had before, we have a wide selection of luxury facial treatments in West Palm Beach Gardens Florida using high quality ingredients and state of the art equipment. We will first analyze your skin using advanced skin imaging technology that will give us a detailed analysis of your skin. We also combine the power of radiofrequency, red light, microcurrent, diamond microdermabrasion and micro needling to give you the best results possible.
Besides very few highly effective products (in our enzyme facial) that were carefully selected, our facial products are house made using natural and organic ingredients. Dr. Naanaa handcrafts each product using different oils, hydrosols, essential oils as well as high performance ingredients to create premium quality products that you won't find anywhere else. Come experience our one of a kind facials and indulge all your senses in Beverly hills Wellness Center & Med Spa.
Classic Organic Signature Facial
Experience the beautiful results of using organic products bursting with juicy pulp, seeds and herbs. Feed your skin all-natural products without harsh chemicals. Address a variety of skin concerns such as dehydration, acne and skin sensitivity. This organic facial in West Palm Beach Gardens Florida is specifically created to suit your skin needs and let the active ingredients impart health and beauty to your skin.
Caviar + 24k Gold Facial in West Palm Beach Gardens Florida
This luxurious age reversal treatment will leave your skin drenched with real 24K GOLD, and caviar oil. This hydrating and cellular repairing facial will take years off your look. This lavish, pampering treatment helps to improve the appearance of fine lines and wrinkles for a youthful-looking complexion along with our fountain of youth . The luxurious CAVIAR hydrates, lifts, and firms the face using protein-rich caviar and powerful antioxidants. Caviar will take your skin to the next level while stimulating, deeply hydrating and leaving your skin absolutely radiant.
CBD OIL Facial with Micro current west palm beach gardens florida
Come experience one the latest facial trends: CBD OIL . CBD is the non psychotropic component of the plant. CBD is known for its great pain relieving benefits as well as its inflammatory properties. We use a locally compounded oil with high CBD content for maximal benefits. This specific facial is designed to stimulate the productions of collagen which plumps fine lines and creases and reduces appearance of wrinkles. During this 60 minutes session, we combine the effect of CBD oil and electric stimulation that penetrate and stimulate over 35 different muscles in your face to help lift and tighten the skin
*(since this is a very relaxing experience , we do no extractions unless requested)
Whether you need to be camera-ready or just want to look great without invasive procedures and harsh chemicals, the Red-Carpet Facial is the best choice to deliver A-list results year-round. It uses the most advanced anti-aging technology available to produce fast results without any downtime. This restorative and relaxing treatment is like a good night's sleep for your mind and body. Beyond wrinkle-reducing, the treatment targets all areas that need care most, helping to lift, firm and contour the jawline, cheek bones and delicate eye area. By encouraging collagen formation through suppressing its breakdown and energizing the skin, this treatment improves elasticity and defies gravity. Synergy between the microdermabrasion and LED Light results in dramatic and cumulative effects, much like an effective personal training fitness routine, but for your face.
This exclusive combination is "light years" ahead of any other non-invasive, anti-aging approach. It is no wonder that nominees and presenters entrust their faces before important ceremonies to this gentle, yet effective, treatment. Looking great makes you feel great. We believe it should not be reserved for award shows.
This facial is specifically tailored for man's specific needs. The facial includes a deep cleansing treatment, an exfoliating scrub and different masks and oils to ease shaving. The Gentleman's facial addresses a variety of skin concerns such as dehydration, acne and skin sensitivity. This facial is specifically created to suit the man's skin needs by letting the active ingredients impart health and beauty to the skin.
Oxygen Enzyme Facials (A.K.A HOUSE OF THRONES FACIALS)
The oxygen enzyme facial in West Palm Beach Gardens Florida follows a four step system to detoxify the skin of all impurities to leave a glowing appearance, to stimulate the facial muscles to provide an instant lift to tired, sagging skin and to firm and tightens the skin for a more youthful appearance. You will notice an instant increase in oxygen in your face which will apparent by the capillaries that you will see appear on the surface of your skin (house of thrones name). Don't worry the capillaries will disappear shortly after the treatment.
Hyperpigmentation Enzyme Facial
Enzyme therapy stimulates your facial muscles and works from WITHIN the skin to leave it firm, healthy and nourished. Ageing and other skin problems are the result of a loss of functioning in the skin. OXYGEN ENZYME FACIAL in West Palm Beach Gardens Florida helps to quickly restore lost functioning enabling the natural processes of the skin to return to normal and providing a stronger a more youthful appearance helps reduce Fine Lines, Wrinkles, Crow's Feet, Sagging, Large Pores. This introductory offer comes with a 30 day skincare home kit
DMK facial West Palm Beach Gardens Florida
This Luxurious new facial combines the latest innovations in skin lightening technology to correct all forms of hyperpigmentation without irritation. The skin dark spots will diminish, while powerful antioxidants create a glowing even tone on all skin types. This introductory offer comes with a 30 day skincare home.
Diamond Microdermabrasion Facial West palm beach gardens florida
Microdermabrasion in West Palm Beach Gardens, Florida, is a very effective way to exfoliate layers of dead skin cells and reduce the look of large pores. A gentle vacuum wand will smooth fine lines, lessen the look of discolored skin, and eliminate blemishes, leaving you with a vibrant, healthier complexion. Décolletage, Neck, and Back areas also may be treated. Microdermabrasion offers benefits to anyone who wants to improve specific skin conditions and rejuvenate the overall health and appearance of their skin. Rejuvenates sun-damaged skin – face, neck, shoulders, back, and arms. Reduces age spots, minimizes blotchy skin coloring, and reduces acne and superficial scars from past injuries. Extract blackheads and whiteheads, stretch marks, and improve overall skin health.