Radiofrequency Microneedling

Best Radiofrequency Microneedling Treatment in West Palm Beach Gardens Florida, Fl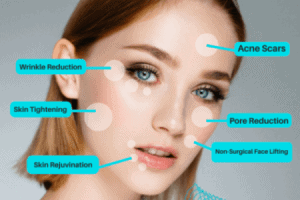 Pixel8-Rf West Palm Beach Gardens Florida is a minimally invasive fractional, Bi-Polar Radio Frequency system that will disperse microneedles deep within the dermis to produce dramatic skin tightening and skin rejuvenation. Pixel8-RF can be used in all areas of the body and on all skin types. It combines the latest advancement in Micro-needling and Radio Frequency(RF) technologies.
It is a great treatment with minimal to no downtime and tolerable discomfort regardless of skin type.
It is different but a great alternative to Laser in patients with either darker skin type or those who can't afford downtime.
Radiofrequency Microneedling – West Palm Beach Gardens Florida
These are some of the skin conditions that Pixel8-RF microneedling in West Palm Beach Gardens Florida can treat: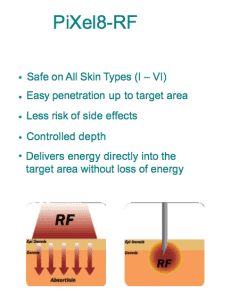 Skin tone and texture improvement
Pore size and number reduction
Scar reduction
Stretch mark reduction
Double chin reduction
Neck tightening
Hand rejuvenation
Cellulite reduction
How does the treatment work?
The PiXel8-Rf provides precise and controlled coagulation and hemostasis deep within the dermis to help stimulate collagen, providing dramatic skin tightening and rejuvenation. The microneedle depth can be adjusted for each treatment area. Thereby, allowing for customized treatments to delicate areas, such as under the eyes, the forehead, and cheekbones.
Can the PiXel8-RF be used on all skin types?
Yes. Unlike laser treatments, the PiXel8-RF uses only radiofrequency energy. The microneedles precisely deliver RF energy into the dermis tissue. There is virtually no thermal damage to the epidermis and almost eliminates the risk of PIH(post-inflammatory Hyperpigmentation) in darker skin types. Therefore, it is safe to use on all skin types and all colors of skin.
How long does it take to perform PiXel8-RF treatment?
It takes 20 to 30 minutes if treating one area. It is advised to arrive 30 minutes before your treatment without makeup if possible. After cleaning your face, we'll apply local numbing medicine to your face.
How many treatments do I need?
Obvious results are apparent in a few weeks after even one treatment in most patients. The maximum benefit you get from this technology is when you get around 3 treatments that are spread one month apart. After that, at least once a year maintenance treatment is recommended to help keep the results.