Radiofrequency Microneedling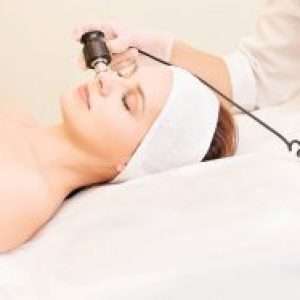 Danielle Long
October 11, 2023
I had my first ever Botox injections today with Dr. Dahabra. From the moment I walked through the door the staff were fantastic and made me feel welcomed. Dr. Dahabra answered all of my questions and was wonderful with easing my first-timer jitters. Turns out Botox does not hurt nearly as bad as I was expecting, or maybe Dr. Dahabra is just that good. Results are still pending, but I had a great experience and will definitely return for other services.
aubrey keplin
October 5, 2023
Lauren K was the best! She was very accommodating to my schedule and made me feel confident and comfortable in my treatment! I drove all the way from Fort Lauderdale to WPB to go to her and I would make the drive every time!!
Iliyana Buhtiyarova
September 30, 2023
Absolutely love this place! Very clean and neat. The staff is very kind, Dr Dhabra is so kind, gentle and professional. His skills are far beyond my expectations!! I did my first time Botox and I am so happy I put my trust in him. HIGHLY RECOMMENDED. The only place that has so many positive reviews that are actually accurate!! Can't wait to use more services there.
Esmira gheisary
September 28, 2023
The best MedSpa salon with very professional and friendly stuff. Thank you!
Page Weinstein
September 23, 2023
I love this place! I am deathly afraid of needles (I actually pass out every time) but the Dr. is so amazing! He is so professional, patient with me and amazing in his care! I have been going here for years, even when I moved away to Pennsylvania, I still come back to get my Botox done here! I highly recommend!
Sasha A.
September 19, 2023
I've been coming to Beverly Hills Wellness for 2 years now and working with Lena. About a year ago, I started getting the worse acne I've ever had in my adult life. Lena evaluated my face and suggested a few facial treatments to remove the acne and clear my skin. Fast forward to a year later now, my skin has returned to its normal smooth texture and I rarely get any breakouts. I accomplished all this my religiously coming every month and working with Lena. She's a lifesaver that completely saved my skin when I didn't know what else to do! BHWC is my go to for all my beauty treatments now! Love it!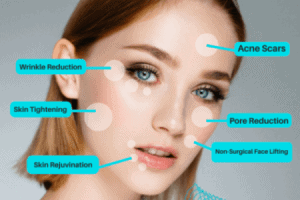 These are some of the skin conditions that Pixel8-RF microneedling in West Palm Beach Gardens Florida can treat: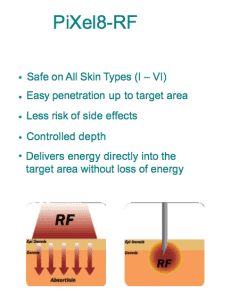 Skin tone and texture improvement
Pore size and number reduction
Scar reduction
Stretch mark reduction
Double chin reduction
Neck tightening
Hand rejuvenation
Cellulite reduction
How does the treatment work?
The PiXel8-Rf provides precise and controlled coagulation and hemostasis deep within the dermis to help stimulate collagen, providing dramatic skin tightening and rejuvenation. The microneedle depth can be adjusted for each treatment area. Thereby, allowing for customized treatments to delicate areas, such as under the eyes, the forehead, and cheekbones.
Can the PiXel8-RF be used on all skin types?
Yes. Unlike laser treatments, the PiXel8-RF uses only radiofrequency energy. The microneedles precisely deliver RF energy into the dermis tissue. There is virtually no thermal damage to the epidermis and almost eliminates the risk of PIH(post-inflammatory Hyperpigmentation) in darker skin types. Therefore, it is safe to use on all skin types and all colors of skin.
How long does it take to perform PiXel8-RF treatment?
It takes 20 to 30 minutes if treating one area. It is advised to arrive 30 minutes before your treatment without makeup if possible. After cleaning your face, we'll apply local numbing medicine to your face.
How many treatments do I need?
Obvious results are apparent in a few weeks after even one treatment in most patients. The maximum benefit you get from this technology is when you get around 3 treatments that are spread one month apart. After that, at least once a year maintenance treatment is recommended to help keep the results.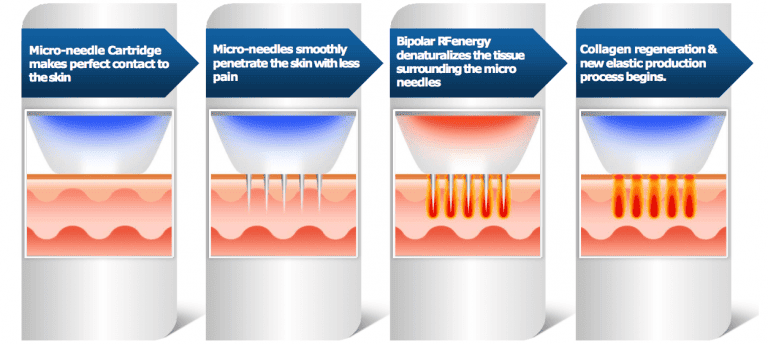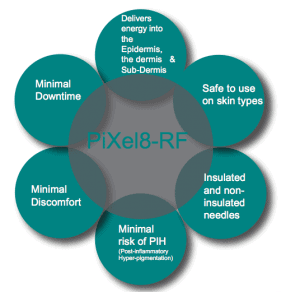 [wpbb-acf-repeater name='video_gallery']
[/wpbb-acf-repeater]