Fractional Laser Treatment

Best Fractional Laser Treatment in West Palm Beach Gardens Florida Fl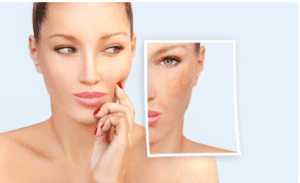 There are two different Palomar Icon handles for Fractional skin rejuvenation. The first one is the Lux 1540 which is the milder form and the other one is the Erbium: YAG 2940 which is more aggressive but still a fractionated laser with faster healing and less downtime than regular ablative lasers. There is always a tradeoff when it comes to laser treatments. The Lux 1540 has minimal downtime but you need multiple sessions to see great results. The Erbium: Yag 2940's downtime is longer, but you need fewer sessions for the same results.
Cynosure Palomar Icon Lux 1540is FDA-approved fractional laser treatment
It has several indications :
Surgical Scars
Stretch marks
Hyperpigmentation
Sunspots/age spots
Cynosure Palomar Erbium: YAG 2940 Laser
The Lux 1540 is considered a mild ablative laser that removes the top layer of skin. It is also a nonablative laser delivering a small fraction of heat to the skin. The Cynosure Icon 1540 Fractional handpiece emits light energy into the deeper layers of the skin. This creates deep columns of skin coagulation which results in the ability of the skin to repair itself by replacing damaged skin cells with healthier cells. Furthermore, the light energy heats the target area and stimulates the production of collagen which boosts skin renewal. With additional treatments, the area becomes smoother and healthier. Lux 1540 can be used on the face, neck, chest, arms, and hands. While you may need multiple treatments to see results, there's minimal downtime.
Cynosure Palomar Icon Lux 1540
Pros
Less invasive than full-blown ablative lasers
The laser cools as it goes, keeping skin comfortable and protected.
Compared to ablative lasers (which remove the top layer of skin), it has reduced recovery time, fewer reactions, and fewer risks.
There's little to no downtime. Because the skin isn't broken, you can apply makeup or even shave the same day.
It penetrates deep into the dermis due to its long wavelength.
This results in collagen stimulation and production.
Cons
One treatment isn't as effective as ablative lasers, so you'll need multiple sessions for optimal results.
It's not recommended for olive or brown skin, due to the risks of hyperpigmentation.
People with light skin can't be tan for their appointment, so you'll need to stop all tanning four weeks before your appointment, to avoid the risk of pigment changes or burns. You'll also need to avoid direct sunlight for a week post-treatment.
Individual pain thresholds vary, so you may experience discomfort that ranges from a pinprick during the session to a more discomfort level. Using the Zimmer chiller and numbing the treatment area makes the process manageable.
While pigmentation issues are reportedly rare, they can occur.
What happens during a Lux 1540 treatment
Topical anesthesia will be applied to numb your skin, and you'll be given laser goggles to protect your eyes. The head of the device delivers pulses of heat energy; it may feel hot or like a rubber band snapping against the skin. The treatment usually lasts approximately 30 minutes.
If you are experiencing too much heat on your face, a Zimmer chiller can be used to cool it down. Ice-packs can also be comforting. Wearing sunblock after for at least a week is very important to prevent hyperpigmentation.
What to expect after Lux 1540
Immediately following treatment, your skin may feel mildly sunburned, and it's not unusual to experience redness and swelling that can last anywhere from two to five days. Applying ice and taking an over-the-counter nonsteroidal anti-inflammatory (NSAID), like ibuprofen, can reduce side effects. You may also notice peeling, flaking, and itching for a few days. Avoid physical activity for at least a day after.
While you'll see some results after your first visit, you'll probably need repeated sessions to get optimal results. Three to five sessions, spaced roughly four weeks apart, are usually recommended. After your final treatment, you'll see progressive improvement as your skin regenerates and collagen is built, usually over two to three months.
The best way to avoid this post-inflammatory hyperpigmentation (PIH), especially in prone people or darker skin types, is to limit UV exposure for at least two weeks after treatment by avoiding direct sunlight as well as wearing sunblock and a hat or visor. Additionally, pretreating the skin with hydroquinone can help. Treating the skin with 4% Hydroquinone for 4 to 6 weeks in susceptible individuals will decrease the risk significantly.
Regardless of your skin tone, you'll need to continue wearing a broad-spectrum sunblock containing Zinc or Titanium Oxide with SPF 30 or higher for several months following the procedure to help protect your new skin.
Cynosure Palomar Erbium: YAG 2940 Laser
There are many indications for Fractional, also called Fractionated Laser:
Treat fine lines and wrinkles
Scar reduction and treatment
Treat hyperpigmentation as Melasma, sun spots and age spots.
Even out the tone and texture.
While an ablative laser removes the entire surface layer of skin in the treated area, fractional laser beams are broken up into smaller units, so they target between 25% and 40% of the skin's surface, leaving the rest intact. The surrounding intact skin helps jump-start healing, stimulating the production of new collagen and the turnover of new cells. Because of this, fractional lasers offer a quicker recovery as well as results that are visible more quickly.
There are many Fractionated lasers on the market. The Cynosure Erbium: YAG 2940 is one of the best of these machines. It combines a very effective treatment with minimal side effects when used by professionals.
Cynosure Palomar Erbium: YAG 2940 Laser
Pros
It can treat acne scars, age spots, and even wrinkles, often producing significant results after a single session.
Typical downtime is less than a week, with a shorter and easier recovery than from fully ablative lasers.
Most fractional lasers are equipped with a continuous cooling mechanism, to improve your comfort and reduce the risk of burns.
Post-procedure, most people see smoother skin within a few weeks—and results continue to improve for another six months.
Cons

People with severe pitted acne scars (which are difficult to treat) may need more than one treatment to be satisfied with their results.
You'll need to avoid sun exposure for at least a week after fractional laser treatment and be diligent about applying sunscreen every day, to maintain your results.
Some fractional lasers aren't recommended for people with olive or brown skin, due to the risk of developing PIH(post-inflammatory hyperpigmentation).
Fractional laser treatments can result in burns or scarring when they're performed by an inexperienced provider.
What happens during a fractional laser treatment?
Before you go in, make sure you've removed all makeup and taken off any jewelry. Your provider will apply numbing cream, which can take up to a half-hour to go into effect. After the numbing cream is wiped, a gliding gel is applied to help the laser move across your skin's surface.
The provider then moves the laser across the treatment area. The number of passes depends on which fractional laser they're using and how aggressive the treatment will ultimately be. The whole procedure takes about 20 to 30 minutes for the face and a bit longer for larger areas of the body.
When they're done, they'll wipe off the gel. Your skin will feel hot and red, and your provider will apply moisturizer and sunscreen, to protect and soothe it.
What is the healing process for a fractional laser treatment like?
Your downtime and healing process will depend on the intensity of your treatment, but most people experience swelling, rough spots, and redness for a few days. Your skin should look and feel mostly healed by day six or seven. Before then, you can use cold compresses to help alleviate heat and pain. Sleeping with your head elevated can reduce swelling.
After more intense treatments at a higher setting, you may need a few extra days off work. You should be healed and presentable within 12 days, but your complexion may appear bronzed for about two weeks. Don't pick or peel any flakes or scabs.
Avoid direct sun exposure for at least three months (ideally longer, to help preserve your results). When you're outside, wear sunblock containing Zinc or Titanium Oxide with an SPF of 30 or higher and a wide-brimmed hat.
When will you see results and how long will they last?
You'll see your final results 8–12 weeks after your procedure. Results can last up to three years, and you can extend them with an occasional chemical peel or repeat laser.
Is fractional laser resurfacing safe?
Fractional lasers are FDA cleared for safety in treating "periorbital wrinkles, acne scars, surgical scars, dyschromia, and pigmented lesions, such as age spots, sunspots, and melasma." Additionally, a clinical study notes that fractional laser resurfacing is very safe "when used according to accepted parameters." This means that they're especially safe when you choose an experienced practitioner with a thorough knowledge of the skin and the technology who can effectively treat any complications.
What are the risks and side effects of fractional laser treatments?
Fractional lasers intentionally injure your skin on a microscopic level, so the treatment can be uncomfortable—it can feel hot or like a pinch or the snap of a rubber band—but the level of pain you'll feel will depend on your own tolerance. Swelling, redness, and tenderness can last anywhere from several days to a few weeks, depending on the aggressiveness of your treatment.
As you heal, watch for signs of infection or contact dermatitis. Acne, milia, and herpes cold sores can also flare up post-treatment. You may notice bleeding, oozing, crusting, and scabbing, especially within the first few days. Blisters may form within two to four days.
There's a small risk of scarring, which can be permanent and can lead to hypo- or hyperpigmentation, although this risk is decreased if you use a high-spf cream. It also happens more frequently for people with dark skin tones or those who get the treatment over a tan.
Also, we make sure that your eyes are protected during the treatment to protect them.