Customers' Treatments Gallery
These Images Are Real Ones of Our Clients At Our Spa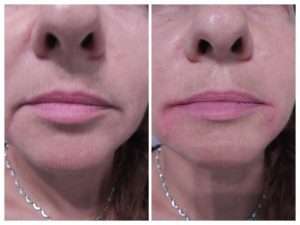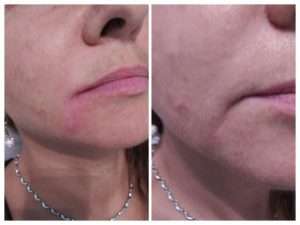 Marionette lines erased with 1 syringe of Filler West Palm Beach Gardens Fl
This lady received one syringe of Dermal filler in West Palm Beach Gardens Fl into the marionette lines and the oral commissures. She got more filler on her R side as the line was deeper. 
The redness there will disappear within a day or so, leaving her with Marionette line-free face and more straight oral happier looking commissures.
Under eye wrinkles after One Plasma Fibroblast Pen Treatment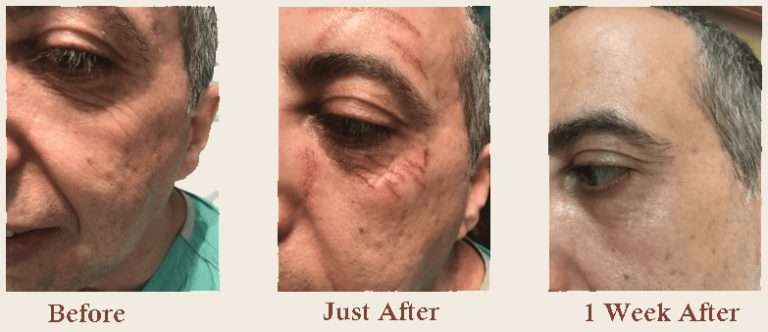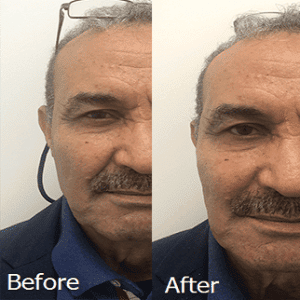 Smile Line Syringe of Radiesse
This gentleman received 1 syringe of Radiesse into both smile lines to soften them.
This is me, Dr. Dahabra showing the wrinkles before treatment. The second one is just after the procedure. The third one is taken exactly one week after treatment. Please also visit our Fibroblast Plasma Pen page under services to get more information and to watch a video clip of the procedure.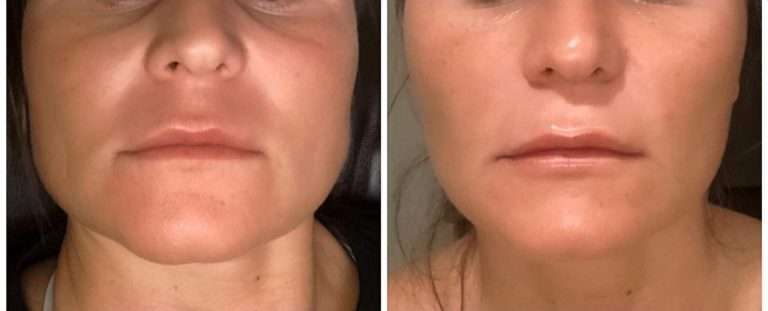 This lady received 30U of Botox
This lady received 30U of Botox into each Masseter muscle thinning her lower face. Also, she received fillers on her lips, smile lines, and tear troughs under her eyes. You can notice how her lips are fuller, her smile lines disappear, and the hollowness, wrinkles, and discoloration under the eyes have improved significantly.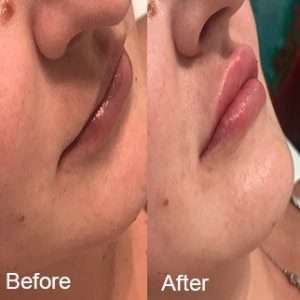 Cheek augmentation with 2 syringes of Voluma
This lady received 1 syringe of Versa into her lips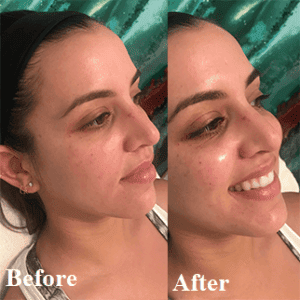 Cheek augmentation with 2 syringes of Voluma
This lady received 1 syringe of Voluma in each cheek. She is extremely happy with the result.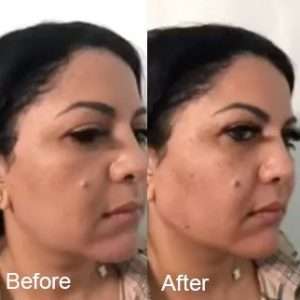 Jawline Contouring with Radiesse
This lady received 2 Syringes of Radiesse filler into each side of the Mandible to contour and define the jawline. She's very pleased with her results.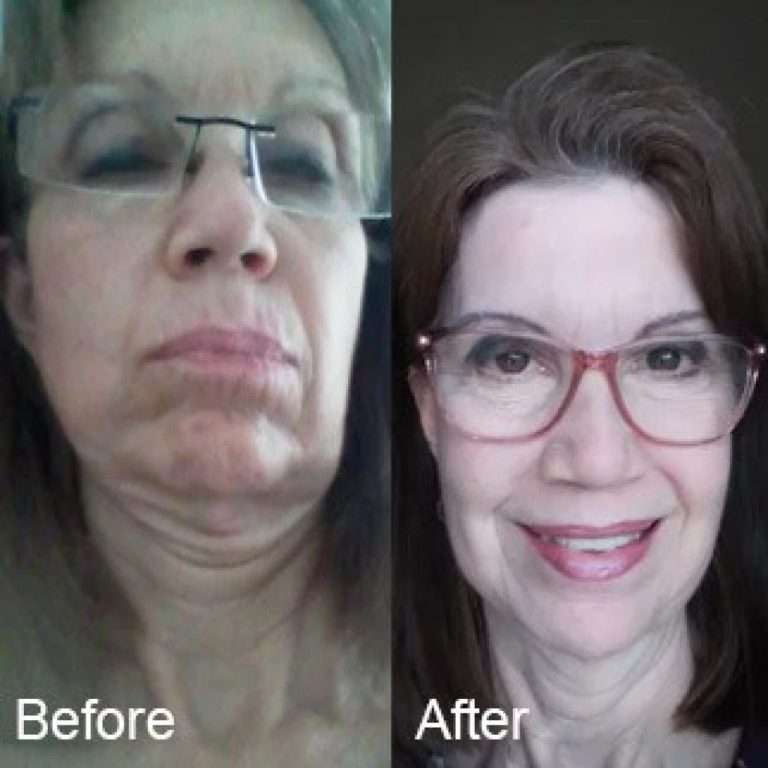 One syringe of Boletero Filler to Lip lines
Patient's own words:" My goal in seeking treatment was to minimize the vertical lip line wrinkles above my mouth. I read about Volbella, a filler considered appropriate for that area, and when I called the Beverly Hills spa to inquire about it, the receptionist knew all about it. She pleasantly informed me the spa offered an alternative filler called Belotero at a special introductory price. I read it and learned it gave the same results as Volbella. I really appreciated the fact that the spa offered me exactly what I was looking for at a below-market price…that's unusual !! Dr. Dahabra was professional and realistically informed me the filler would soften the lines but not make them disappear. The procedure lasted about 30 minutes. The injections were a little painful, and I had some swelling and redness. I concealed most of it with makeup, and no one at work noticed the redness. These lines had really bothered me, and as Dr. Dahabra said, they were softened by the Boletero… I immediately noticed the difference. I am super pleased with this treatment."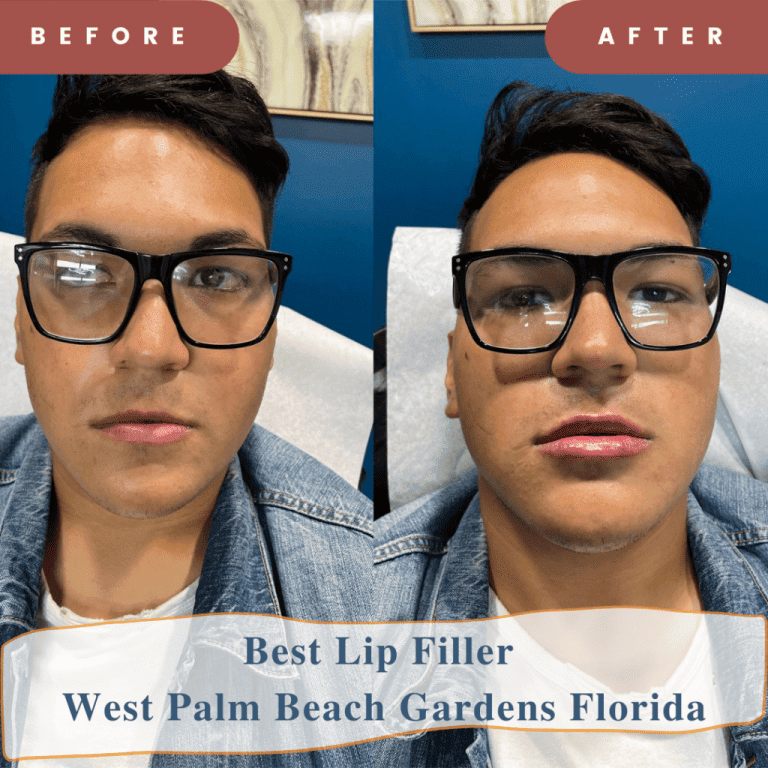 Microblading West Palm Beach Gardens Fl

Fibroblast plasma pen around mouth
This lady has a treatment with Pladma pen to treat the wrinkles around the mouth.
Lip Augmentation with One Syringe of Restylane Kysse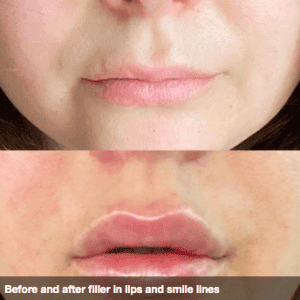 This young lady received one syringe of Dermal filler into Smile lines and another syringe injected into the lips!!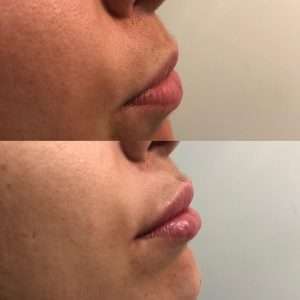 This lady received a total of one syringe of Restylane Kysse West Palm Beach Gardens Fl into her lower and upper lip. The fencing, or the so-called Russian technique, was used for the upper lip. It gives the upper lip the perfect profile and pout.
Best Acne Treatment West Palm Beach Gardens Fl
Best Acne Treatment West Palm Beach Gardens Fl