PDO Threads in West Palm Beach Gardens Florida, Fl

Beverly Hills Wellness Center & Med Spa is a thread lift West Palm Beach Gardens Florida center.There are two main types of threads. The first type act the same as fillers and these are inserted under the skin. They then stimulate the body to produce its own collagen and fibrin in that area filling it naturally. The second type of threads are used to lift the tissue. If they are used in the face, they can give you a minimally invasive face lift. Beverly Hills Wellness Center & Med Spa in West Palm Beach is a center of excellence for PDO thread face lift in West Palm Beach.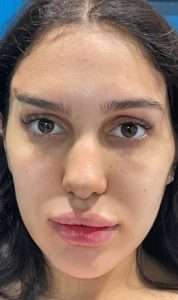 Any place in your body where you would need to fill it with collagen as face or hands
Eye brow shaping
Lifting forehead
Nasolabial fold softening
Contouring of jaw
Lifting the neck
With filling threads, you will start to see improvement in a month and maximum benefit in 2 months. This effect last around a year in most patients. With lifting threads you see the results immediately and it can last up to 2 years. It is optimal to combine this therapy with other treatments and topical skin care products as Hyaluronic acid and Vitamin C. If you are looking for PDO thread face lift in West Palm Beach Gardens Florida , Dr. Dahabra is a PDO face lift expert specialist in the West Palm Beach area.
Does PDO thread lift help with the cheek lift and Ogee curve restoration?
In aesthetic medicine, the Ogee curve refers to the double S-shaped curvature of the midface that can be seen from a 45-degree angle. The curve starts at the brows, continues down to the cheeks, and highlights the fullness of the cheeks. It can act as a guideline when restoring the youthful architecture of the face.⁠
As we age, the natural curve flattens due to volume loss and tissue sagging. One way to improve the Ogee curve is through PDO threads by repositioning sagging tissue to restore volume and add more dimension to the midface. This lift is, of course, in addition to replacing the deficit with fillers in the cheek, and the thread lift assists with that and gives the curve a more natural youthful look.
Is storing te PDO threads in West Palm Beach Gardens make a difference?
Proper storage will help maintain the high-quality standard with which PDO thread is created, so we provide the patients with the best our PDO fibers offer.  PDO thread lift is also a non-surgical facelift in West Palm Beach Gardens.
– We Avoid direct sunlight: we store them in a room without a window or keep the blinds closed.  If not, we store them in a cabinet to protect the threads from oxidation with sunlight.  Also, we use Mint PDO threads packaged in a box and then three different wraps, one of which is made of material that prevents light penetrations.
– We keep our threads dry: we remove our PDO threads from the package when we plan to use them.
– Temperature: we maintain the recommended room temperature of approximately 33.8ºF – 88ºF at all times.
– We do not re-sterilize: threads are for single use only and should be disposed of after removal from packaging.
– We use our PDO threads before the expiration date: MINT™ barbed threads have a 3-year shelf life, and smooth threads have one year.
We follow all these steps to ensure you get the best quality and condition of PDO threads inserted into your skin.
Why should I use the PDO thread lift in West Palm Beach Gardens?
There are many reasons and indicatins for barbed PDO thread lift.
Some of these are:
It bridges the option between botox/fillers and surgical facial rejuvenation, also called a nonsurgical facelift in West Plam Beach Gardens.
It can somtimes fine tunes and adjusts surgical and procedural outcomes.
It showes immediate and visible results, which can be a subtle but significant improvement.  PDO threads give a nice natural look.
It is cost-effective, especially when compared to surgical choice.
Less downtime.
Minimally invasive compared to surgery.
Flexible to tailor and adjust according to the patient's situation.
We choose brands that are FDA-approved.
Are PDO threads permanent in West Palm Beach Gardens?
PDO is polydioxanone.  This material is the same material used to suture internal organs in surgery.  The material starts disintegrating in about three months and completely dissolves in aroung 6 to 8 months.  The newly formed collagen will enforce and support the tissues and rejuvenate the whole area.
Why is PDO the most popular thread material in West Palm Beach Gardens?
Polydioxanone, or PDO, is a synthetic biodegradable polymer.  Its monofillament configuration allows easier passage through tissue, decreased tissue reactivity, and reduced risk of wound infection.  PDO is considered nonantigenic and nonpyrogenic and is found to induce minimal tissue reaction during absorption after implantation.  It is degraded by hydrolysis and is metabolized in the body.
A review published in 2019 assessed commercially available polydioxanone implants and their safety and performance in patients.  The results showed that no product has been recalled due to the material used and that no PDO implant caused a patient death.  The low percentage of adverse reactions from using PDO implants supports that PDO sutures are safe to use and peform as expected.
What are the most frequent complications of thread lift? 
The best treatment for any complication is to prevent them. An experienced provider will tremendously minimize the chances of any side effects. 
Dr. Dahabra says," experienced injectors know how to treat and deal with a complication, and more importantly, they know how to prevent or decrease the chance of it from the first place."
The most encountered complications are :
– Skin dimpling: skin dimpling will resolve by itself in most cases. If it persists after two weeks, the provider can perform particular skin manipulation and massage to ease and treat this complication. It is essential not to try to massage the area yourself as you might loosen the threads and lose their efficacy.
– Contour irregularity happens at the beginning as the tissue adapts to the new lift. 
– Visible threads: It happens either from the patient's fragile k skin or if the threads are placed too superficial. The thread diameter concerning the placement site is also an essential factor here. 
– Thread extrusion: This happens if the threads are not embedded correctly under the skin's dermis.
– Infection: can be related to the patient's immune status. Also, the threads used and the clinician's sterile technique play a role here.
– Swelling: It is usually temporary due to the tissue's reaction.
– Incomplete facial paralysis: this shouldn't happen with experienced hands and proper knowledge of anatomy. Using only the FDA-cleared threads and cannula will prevent this complication.
– Hyperpigmentation: can result from traumatic insertion or the patient's usual response to any procedure. A quick assessment, history, and physical, as well as a look at skin type, can give an idea about the potential of hyperpigmentation in the skin.
– Hematoma: should resolve by itself.  Gentle insertion, arnica, and cold compressions prevent or heal hematoma quickly.
– Allergy: very rare with FAD-cleared PDO or Silhouette threads.
As you can see from the above, these complications are infrequent, and they resolve by themselves in most cases.  They also can be prevented if experienced hands use only FAD-cleared products, and the last resort is to treat them properly if everything else fails.
Can I get a facelift after the PDO thread lift in West Palm Beach Gardens?
DScar tissue formation is a common concern patients have about PDO threads and how it would affect their eligibility for future facelift surgery.⁠
While this depends on an individual's unique traits, medical history, and aesthetic goals, there have been patients who received PDO threads before and after facelifts. ⁠⁠
PDO threads, biostimulation, and energy-based devices can stimulate collagen in the form of scar tissue, and surgical facelifts are no exception. Some degree of scarring can be formed with minimally invasive treatments, but the same can be expected from facelifts.⁠
Various factors aside from scar tissue formation come into play to determine your eligibility for a facelift. Initial, secondary, or revision facelifts with scar tissue formation can pose a challenge, but it's not impossible. That's why conducting a preoperative evaluation is crucial to getting optimal patient results.
What are the most frequent complications of thread lift? 
There are two main types of PDO threads on the market: barb threads and smooth threads.⁠
The purpose of barb threads in West Palm Beach Gardens is to reposition sagging tissue for a youthful and contoured look without surgery. The goal of smooth threads in West Palm Beach Gardens is to help volumize and tighten the skin by stimulating collagen production as the thread dissolves. Both barb and smooth threads come in various designs and sizes that allow providers to fine-tune the treatment plan for the individual.⁠
Barb threads can help improve the appearance of nasolabial folds, jowls, sagging necks, hooded eyebrows, droopy cheeks, and more. Smooth threads can help improve the appearance of fine lines, crepey skin, acne scars, lip borders, and more. Barb and smooth threads can be used independently or combined for maximum repositioning with added structural support.⁠
When and why do I use Mint Fix PDO threads in West Palm Beach Gardens?
A mint fix is a unique multidirectional thread preloaded with an 18G cannula. It has multidirectional barbs molded across 2/3 of the thread. Because the direction of the barbs alternate, they securely anchor into soft tissues in all directions. It is often used as a supplementary thread to the bidirectional threads as Mint Fine and Mint Petit to "superglue" or "velcro" them into place.
It can provide additional support and longevity to a PDO thread treatment.⁠
Bi-directional threads have two sets of barbs, and each set points in one direction. Multidirectional threads like FIX have 1 set of barbs along 9.5cm of the thread that alternate directions. This design maximizes anchoring and fixation of the thread onto fat pads in all directions, which can help limit the movement of surrounding tissue and secure bi-directional threads to extend their longevity.⁠
If you're looking for a way to reinforce and lengthen your PDO thread results in West Palm Beach Gardens, you might need different Mint Fix threads!