Cheek Wrinkles/Accordion lines Treatments
Danielle Long
October 11, 2023
I had my first ever Botox injections today with Dr. Dahabra. From the moment I walked through the door the staff were fantastic and made me feel welcomed. Dr. Dahabra answered all of my questions and was wonderful with easing my first-timer jitters. Turns out Botox does not hurt nearly as bad as I was expecting, or maybe Dr. Dahabra is just that good. Results are still pending, but I had a great experience and will definitely return for other services.
aubrey keplin
October 5, 2023
Lauren K was the best! She was very accommodating to my schedule and made me feel confident and comfortable in my treatment! I drove all the way from Fort Lauderdale to WPB to go to her and I would make the drive every time!!
Iliyana Buhtiyarova
September 30, 2023
Absolutely love this place! Very clean and neat. The staff is very kind, Dr Dhabra is so kind, gentle and professional. His skills are far beyond my expectations!! I did my first time Botox and I am so happy I put my trust in him. HIGHLY RECOMMENDED. The only place that has so many positive reviews that are actually accurate!! Can't wait to use more services there.
Esmira gheisary
September 28, 2023
The best MedSpa salon with very professional and friendly stuff. Thank you!
Page Weinstein
September 23, 2023
I love this place! I am deathly afraid of needles (I actually pass out every time) but the Dr. is so amazing! He is so professional, patient with me and amazing in his care! I have been going here for years, even when I moved away to Pennsylvania, I still come back to get my Botox done here! I highly recommend!
Sasha A.
September 19, 2023
I've been coming to Beverly Hills Wellness for 2 years now and working with Lena. About a year ago, I started getting the worse acne I've ever had in my adult life. Lena evaluated my face and suggested a few facial treatments to remove the acne and clear my skin. Fast forward to a year later now, my skin has returned to its normal smooth texture and I rarely get any breakouts. I accomplished all this my religiously coming every month and working with Lena. She's a lifesaver that completely saved my skin when I didn't know what else to do! BHWC is my go to for all my beauty treatments now! Love it!
Cheek Wrinkles/Accordion lines Treatments
Cheek Wrinkles/Accordion lines Treatment/Treatments West Palm Beach Gardens Florida
There are many treatments to treat premature cheek wrinkles on the face. In this article, we'll focus on treatments for accordion lines There are many options from skincare products that you can use at home to spa treatments, and eventually to medspa procedures if indicated. Many of these treatments can be used preemptively as well to prevent cheek wrinkles formation. Like anything else in medicine, it is always easier and better to prevent a condition than to treat it.
1) Avoid the sun and use sunblock
This is the first and one of the most important steps. It is a great tool to prevent wrinkles as well. Sunblock is more effective and different than sunscreen. Sunblock contains metal as Zinc or Titanium dioxide that physically and effectively blocks both UVA and UVB. These ingredients are more important than the SPF reading on the label. Also, apply the sunblock frequently every 3 to 4 hours especially if you are outdoors. I particularly emphasize the presence of Zinc as it is also an antioxidant adding to its benefit.
My clinic is in West Palm Beach where it is almost always sunny down here in Florida. I have some of my patients from the North who moved down to Florida. Some of them told me that their skin aged in 2 years from the sun as much as it aged in 20 years in the North. This emphasized the role and importance of sun protection.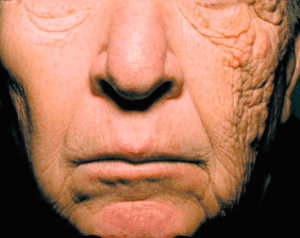 Severe sun damage to the left side of the face on this truck driver
2) A consistent medical-grade skincare regiment
Make sure you consult with your beauty esthetician to analyze your skin and recommend the best treatment for your skin. Many great products need to be used
here. Antioxidants, moisturizers, cleansers, Vitamin C, and retinoids to name a few. Retinoids are still the mainstay for wrinkle treatment. Start with mild ones to see how your skin will react. Retinoids tend to cause dry skin and dermatitis in some people. Decreasing the potency or frequency of the Retinoids and moisturizers use during the day helps to alleviate this reaction. Over time, switch to more potent Retinoids and even medical-grade ones that are by far more effective. Make sure you follow your Doctor's instructions using Retinoids.
3) A regular facial that is both relaxing and healthy
The facial in West Palm Beach Gardens Florida should include microdermabrasion or derma planning if there is no contraindication. The purpose of these treatments is to remove the debris and dead cell layers from the upper part of your skin. This will allow the skincare products to be absorbed more efficiently deeper into your skin.
4)Botox for accordion lines West Palm Beach Gardens Florida
Botox has limited to no role in treating cheek wrinkles.
5) Fillers for cheek wrinkles West Palm Beach Gardens Florida
Dermal Fillers West Palm Beach Gardens Florida are another option that can improve the look of wrinkles and lines in the cheeks and elsewhere. Fillers usually improve wrinkles by inflating the skin and making it more tight and smooth. Belotero is one of the most favorite fillers to fill these lines one by one. On the other hand, collagen-stimulating fillers can be injected into this area to improve collagen. A bed of the filler is injected under the skin all over the cheek to improve skin quality. Some of the options here are Sculptra West Palm Beach Gardens Florida and Radiesse.
6)Chemical peels West Palm Beach Gardens Florida
Medical-grade chemical peel as VI peel West Palm Beach Gardens Florida is a good choice to help in this area as well. You'll need a series of peels in succession then a maintenance peel from time to time. The benefit of the peel is that you apply to many areas of the face. So this way it helps with cheek wrinkles/lines as well as rhytids in different locations of the face. it also helps with collagen formation and improves the discoloration and imperfections that you might have on your skin.
7)Radiofrequency microneedling West Palm Beach Gardens Florida
The two factors that affect the results of RF microneedling are the practitioner's experience and skills and how aggressive the treatment is. The more aggressive setting would result in a little more discomfort and potentially a little more downtime, but the results would be way better. The downtime from RF microneedling West Palm Beach Gardens Florida is short anyways. Expect less than 24 hours downtime in most cases. Very rarely you might need more than that if you have very sensitive skin. A series of 3 treatments spread one month apart would give amazing results in almost all patients.
8) Laser resurfacing Fraxel West Palm Beach Gardens Florida
the same as RF microneedling. There are many different machines on the market. An experienced provider will discuss the best option for you depending on your desires. Overall, the more aggressive the laser and the setting are, the more downtime, the more discomfort, the more chances of side effects, the more expensive is the treatment, but the better are the results. The less aggressive treatment will result in almost the same results but you'll need more treatment sessions to achieve that over time. The laser resurfacing West Palm Beach Gardens Florida can be targeted towards a specific area or you can resurface the whole face.
9) Fibroblast plasma pen
is one of the new treatments for cheek wrinkles treatment. It can be used to treat wrinkles in different places of the face and body. It also helps with tightening the skin. The Plasma Pen works by converting electrical energy into electrostatic energy which is transmitted to the probe by impulse. At about 1mm from the skin, oxygen and nitrogen are mixed to produce an arc of plasma which discharges onto the epidermis. You can target any area of the face or neck as well. The downtime is around 3-5 days to allow the scabs to fall. It is important to avoid the sun during and after this period for around 2 weeks. Using Hyaluronic acid cream twice a day will improve the final result. You might achieve your goal in one treatment. However, a Plasma pen can theoretically be repeated every 2-3 months to reach the final goal.
10) Venus Legacy West Palm Beach Gardens Florida
Venus Legacy is a radiofrequency machine that massages the skin and heats up the tissues to a therapeutic temperature of around 40-45 degrees celsius. The advantage of Venus Legacy is that it treats the skin from outside and inside. It tightens the skin outside and it stimulates collagen formation from inside. It causes a designed denaturation of the skin's protein. The body invites fibroblast collagen cells to the area. The skin then repairs the area and produces better more organized tighter networks of collagen and proteins. A series of 6 to 8 treatment sessions will improve the accordion lines in the vast majority of patients.
11) Thread lift/Non-surgical facelift West Palm Beach Gardens Florida
PDO thread lift is an effective non-surgical treatment for cheek lines. Lifting PDO threads are inserted somewhere in front of the ear and advanced all the way till the corner of the mouth. The advancement all happens under the skin. There is minimal to no downtime with this procedure. You can return to your normal activity or work just after the procedure. The number of threads inserted correlates to the lifting power. The more threads inserted, the more is the pull. You'll need at least 2 to 3 threads inserted on each side to notice a significant improvement.
The combination therapy of all the above is the blueprints on how to improve the look of cheek wrinkles.
Do you have any personal experience with cheek wrinkles treatment?
Do you have any questions about cheek lines treatment ??
Let us know about any experience or question in the comment section below.
Is the lip flip done by Botox only?
No. Other neuromodulators can be used to give the same results as well. The other FDA-approved neuromodulators available in the USA in 2020 are Xeomin, Dysport, and Jeuveau(Newtox).
[wpbb-acf-repeater name='video_gallery']
[/wpbb-acf-repeater]